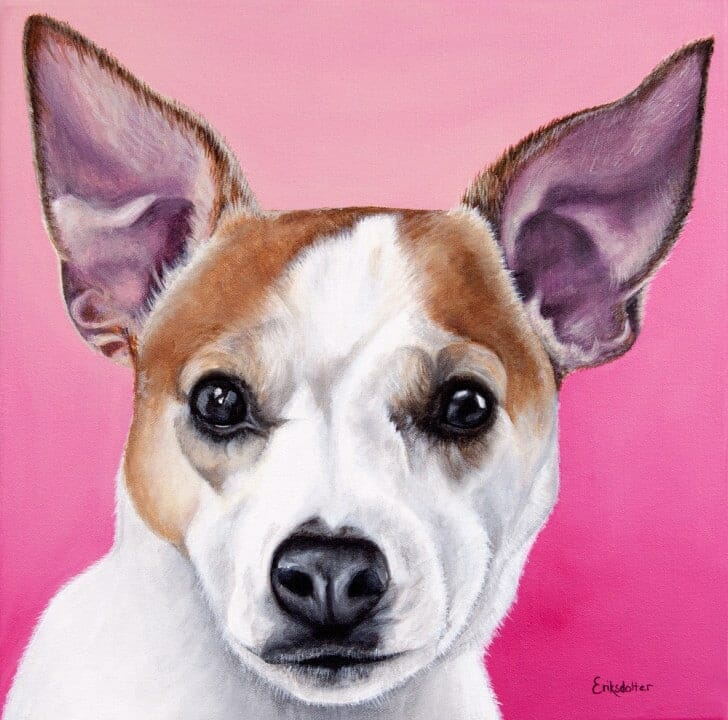 Working with Erica on Olive's portrait was an easy and enjoyable process. I appreciated Erica's attention to detail, advice and consultation with me during the creation of the painting. I couldn't be happier with the end product. The details are amazing and it looks exactly like Olive, right down to the asymmetrical pattern on her nose and lines on her face.  We will enjoy this painting for decades to come!" – B.L. of Virginia
Last year I donated a custom pet portrait for Knock Out Abuse annual auction (five year in a row) where all donations benefits victims of domestic violence. The winner was very excited to get started.
Olive's Portrait is of adorable Olive who is a four year old Jack Russell Terrier and Chihuahua mix and was adopted from the Society for the Prevention of Cruelty to Animals (SPCA) when she was 8 weeks old. My client told me she is full of energy and personality, and is a total princess. She loves to play with tennis balls (often two at once) and always wears a collar with a bow on.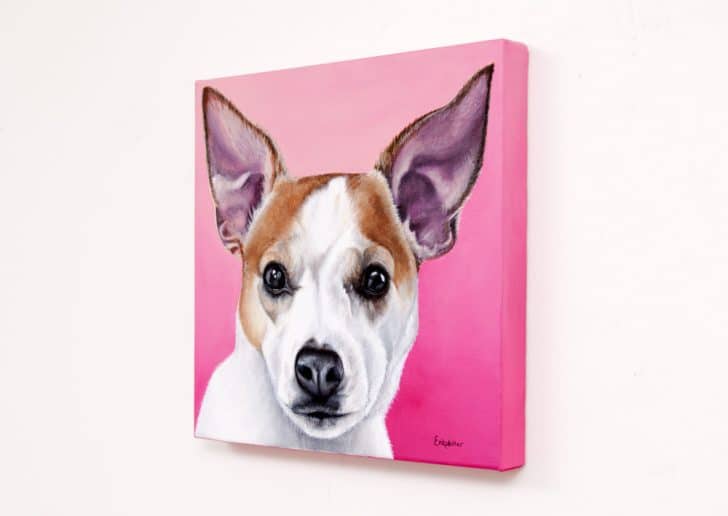 Because of the 'princess' personality and the bows, I wanted to try a bright bubblegum pink background and the client was all for it. I love how it turned out. Both the client and I agreed that it was absolutely perfect and Olive's colors really gets to stand out against this bright pop of color.  Look at those ears!
The painting measures 14 x 14 inches and is painted on a 1.5 inch (4 cm) deep gallery wrapped canvas. All sides are painted with the background color.

View more photos of this painting and other pet portraits in the gallery, and if you're interested in commissioning your very own pet portrait, please fill out this form to get started.

is home LEAVE COMMENT