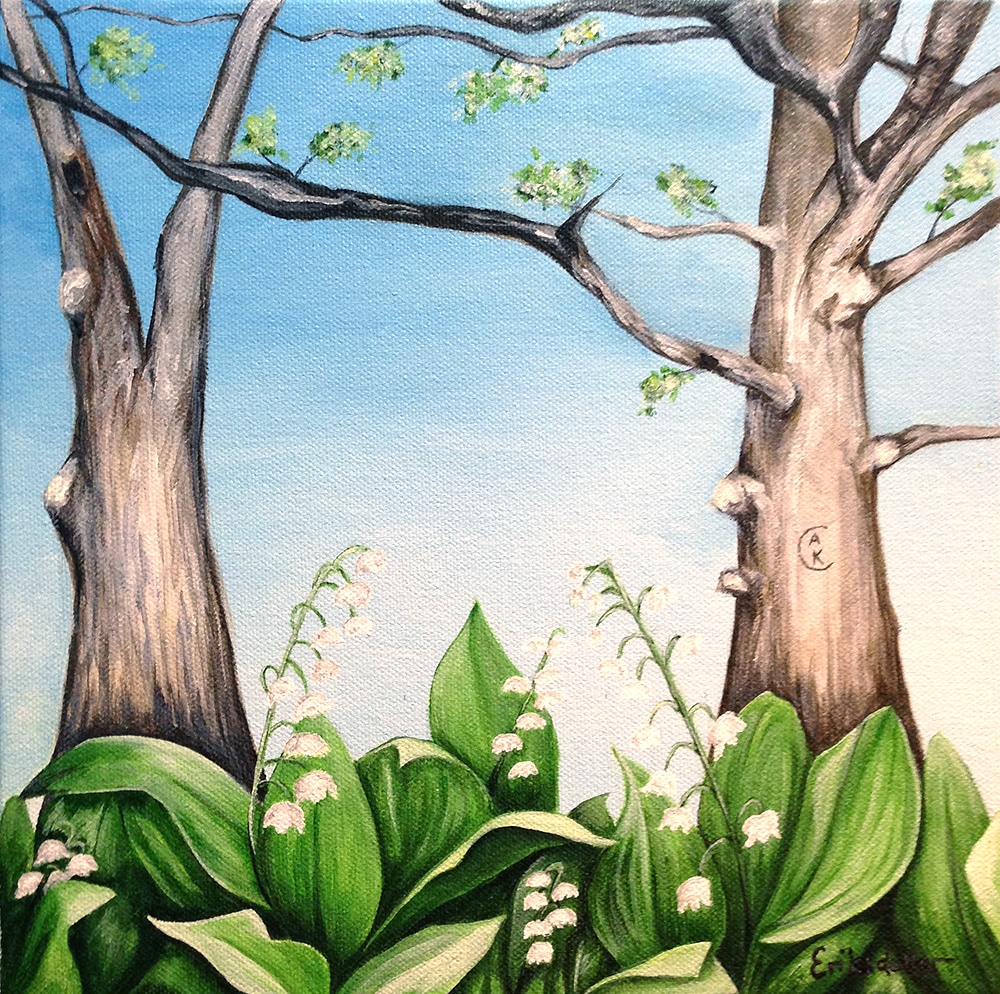 Again, THANK YOU!  I can't adequately express in words how much this means to my family." – K.C. of Reston, Virginia
Often, commissions are much more than a business exchange. They are art created to heal, honor and pay respect to the past and the future while expressing gratitude for and in the now. Many of my clients reach out to me to heal the loss of a pet, or to celebrate love in the form of a bridal bouquet. "Grandmother's Lily of the Valley" is about a piece commissioned by a loving daughter and a son who wanted to give their mom something very special.
It started with Kris, the daughter, connecting with me through a dear friend of mine (and the owner of this piece). Her brother and her wanted to give their mother a meaningful gift for her birthday – a painting that represented 3 generations, and specifically paid homage to their Grandmother who had recently passed away – all in one art piece. I was all onboard – art with meaning is what I do!
Kris shared the story of her Grandmother's garden which was full of Lily of the Valley flowers. Kris' Mother had replanted many of them in her garden when her kids (Kris and her brother) were small and the flowers grew in an area surrounded by two large trees, one which held a big tire swing and the the other, a home to an owl.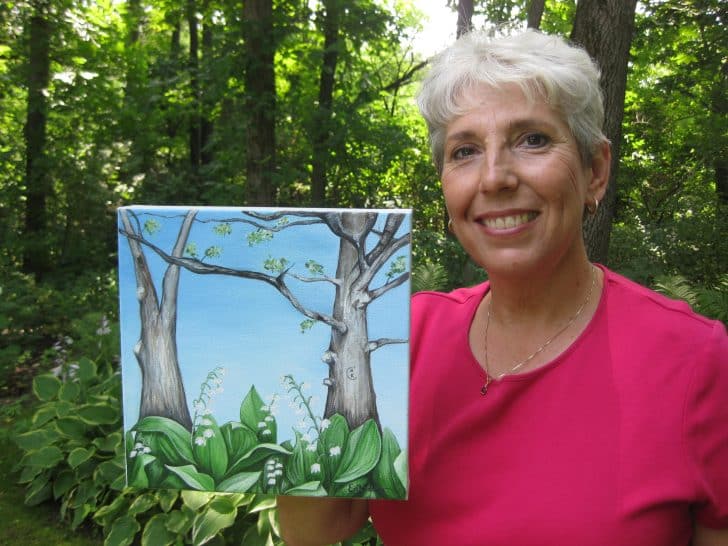 The two trees represent Kris and her brother's childhood (and as such the family's future) and the Lily of the Valley flowers represent their Mother's Mother (aka the past), and since the painting itself depicts their Mother's garden (and is given to their Mother) it also represents the now. To include even more symbolism, the family's unofficial 'crest' is present on one of the trees – the letters A stacked above a K inside a large C. Kris shared the letters of the three generations all follow this naming convention, whether intentional or accidental. See some behind the scenes photos from when I painted this piece here and here.
The gift was presented at a family reunion and I received the most heartfelt thank you note from their Mother and separately, Kris, afterwards. Here's what Kris wrote me (and she mentioned she would love to share this with all my readers):
Mission success! Not only did she cry, but we presented the painting to her at the family reunion, where my great-uncle (my Grandma's brother) could also see your amazing work of art. It was a unanimous success- tears were shed and Kleenex were counted! 🙂

As you can see from my mom's beaming smile, she's beyond pleased. Everything you captured about the scene, the attention to detail, and the setting made her so happy. Erica, she was both honored and humbled to be the newest owner of an original Eriksdotter masterpiece!

Again, THANK YOU!  I can't adequately express in words how much this means to my family.  We were so fortunate to have my Grandmother with us for 100 years, and her absence is felt by all.  Having a daily reminder in the rendering of her beloved flowers means a great deal. You have such exquisite skill!!!

Please, PLEASE, feel free to use the story to express how much your artistry has touched our family. I understand that it's such a little thing for us to do to show you our gratitude, and we are all more than happy to be a testament to your skill in healing and remembrance.
Art is so much more than just paint on a canvas. It's why I love being a fine arts painter and healer. There are so many dimensions and layers to art. Following your calling isn't always the easy thing to do, but it is so rewarding and it is stories like this that fills me up and truly reminds me what I love doing.
View more photos of this painting and other modern pieces in the gallery. If you're interested in commissioning your very own, please fill out this form to get started.
ps. unfortunately I don't have any professional photos of this painting because my husband was diving in Honduras and then climbing the Austrian alps at the time, but what is better than a great customer photo!? This one may just be a favorite.