MAKE THE LOVE LAST FOREVER WITH ORIGINAL PET PORTRAITS
Hi, I'm Erica!
I'm a Swedish-born, Washington D.C.-based painter specializing in pet portraits.
Since selling my first painting at the age of 10, I've had the honor of helping many customers all around the world add more meaning, culture and depth to their homes with portraits of their dogs and cats.
Some say a pet portrait is the perfect gift, and many are moved to tears when they unwrap the paintings, or see their loved ones open their thoughtful gift.
Customers trust me to come back for a second (or fifth!) within a couple of years.
Paintings of pets take 40-80 hours depending on the scope of work, and my process is easy for you.
I work off of your photos to create detailed paintings. We collaborate through out the process and you get to see behind-the-scenes photos as your painting comes alive in my studio.
Paintings ship worldwide for free and I offer a 100% satisfaction guarantee.
If you're interested, I'd love to hear more about your pet.
xo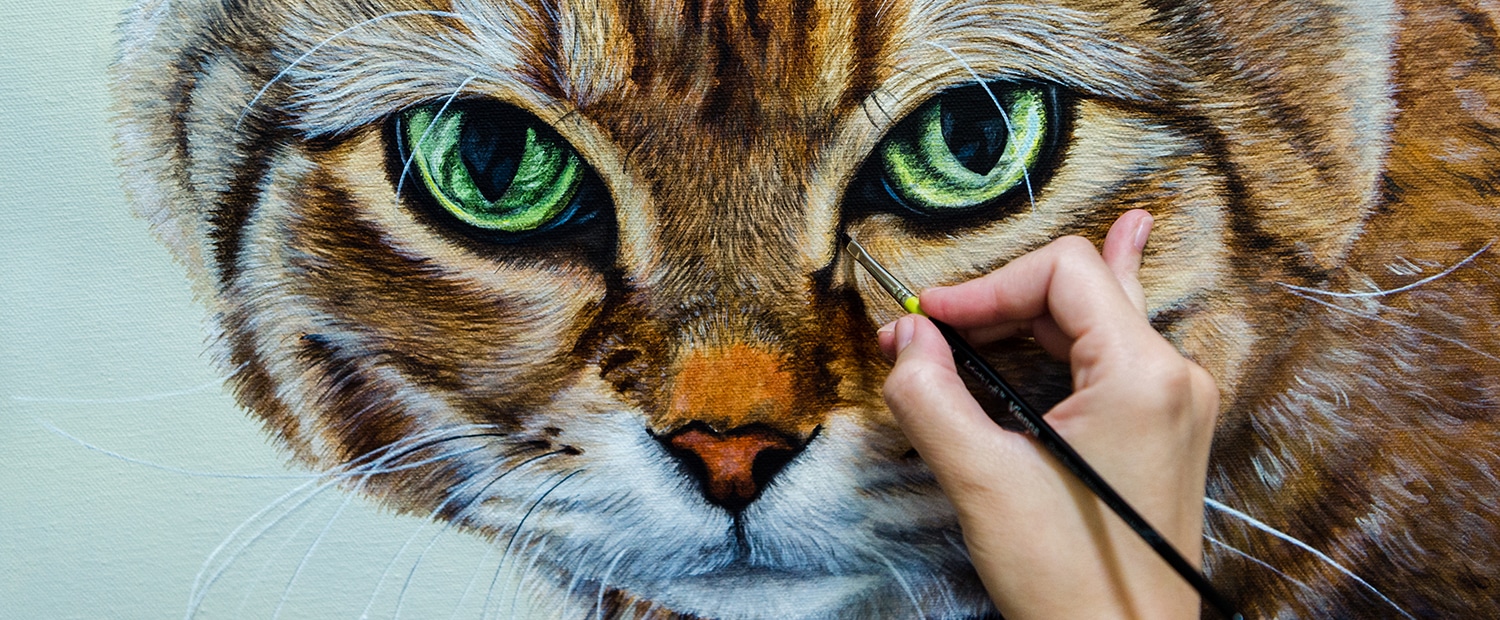 I paint your pet from your photos to create a detailed portrait.
A 50% deposit reserves your painting, with the remaining due once it's finished.
Step-by-Step process takes 40-80 hours depending on the size.
Yes, I ship worldwide, for FREE!
It's completely risk free as I offer a 100% satisfaction guarantee.
If you're not thrilled with your painting, you'll get a swift and complete refund.
HOW MUCH WILL I BE INVOLVED?
I love hearing your stories about your pet as I'll be spending lots of time with my new furry friend to capture every little detail and personality.
I'll share the progress via photos and videos for you to enjoy.
WHAT ABOUT SHAPE AND BACKGROUND COLOR?
The shape depends on the pose, and the background color should compliment and highlight your pet's fur.
We'll make these decisions together.
WHAT CUSTOMERS ARE SAYING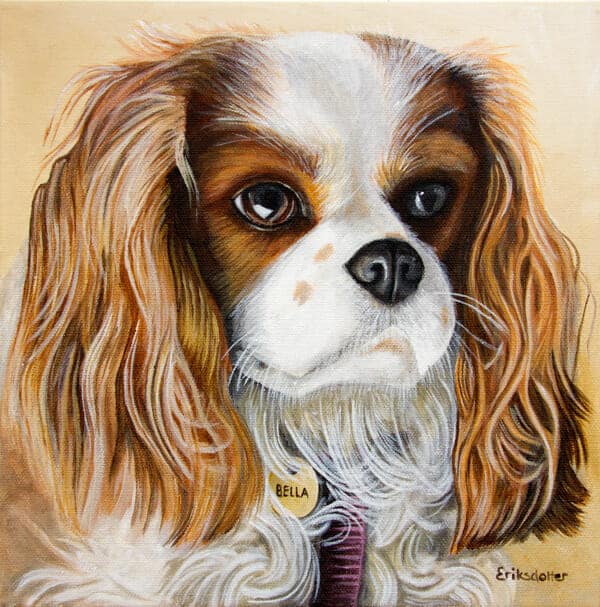 "I wish you could have seen my in-laws' faces when they unwrapped Bella's portrait!"
A.H. of Delaware
Gave her mother-in-law a portrait of her beloved dog as a birthday gift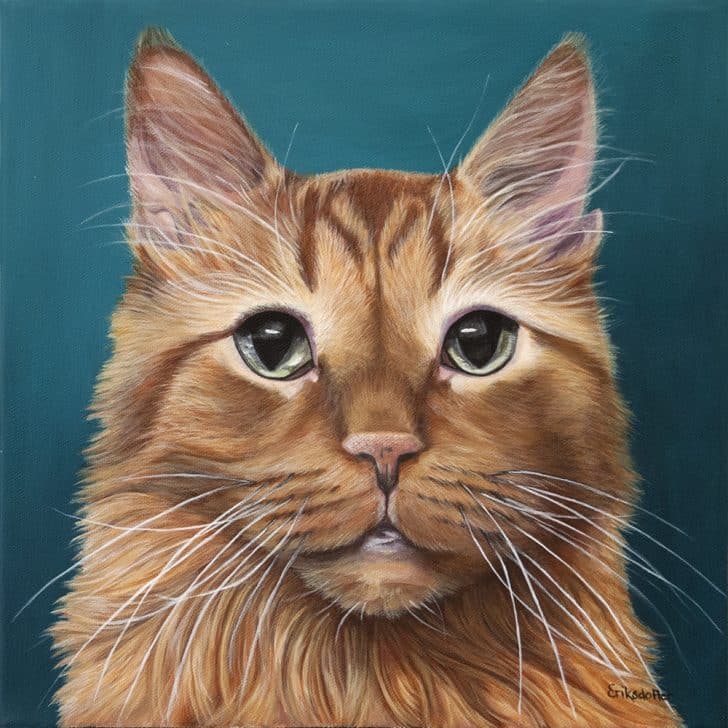 "I can almost reach out and touch him. It looks just like him."
K.B. of Virginia
Memorialized her cat, Archie, with a portrait after 18 years of friendship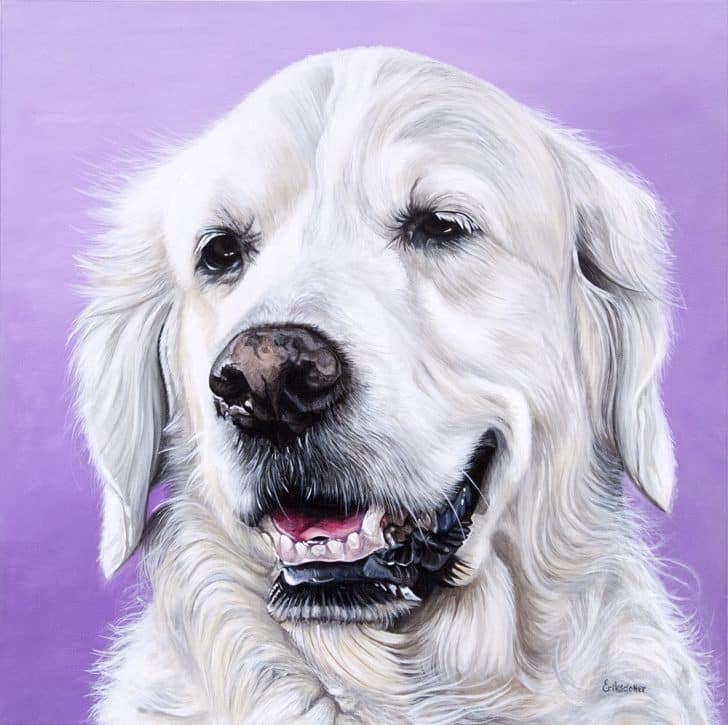 "Thank you Erica for everything. Your extraordinary talent and your extraordinary heart."
M.S. of Maryland
Repeat customer who gave a portrait to her best friend as a surprise 50th birthday present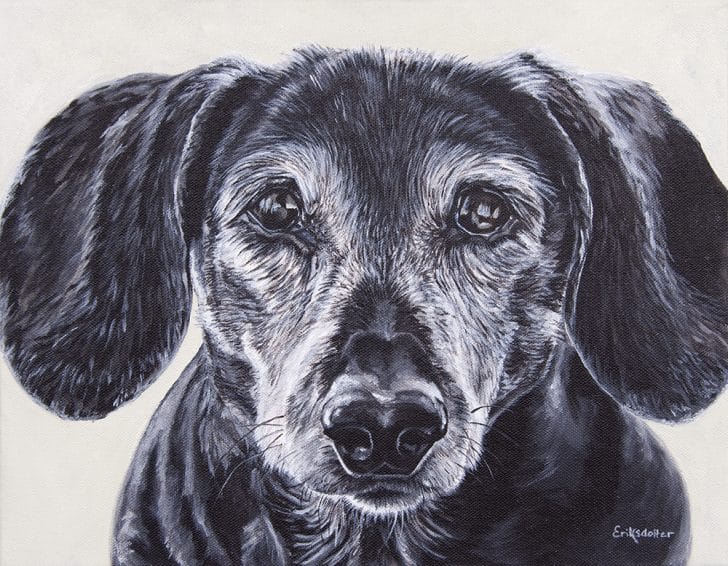 "It brought tears to my mother's eyes. It feels so great to see her face opening the painting! Thank you Erica!"
R.D. of Virginia
Surprised her mom with a portrait of her dog for Christmas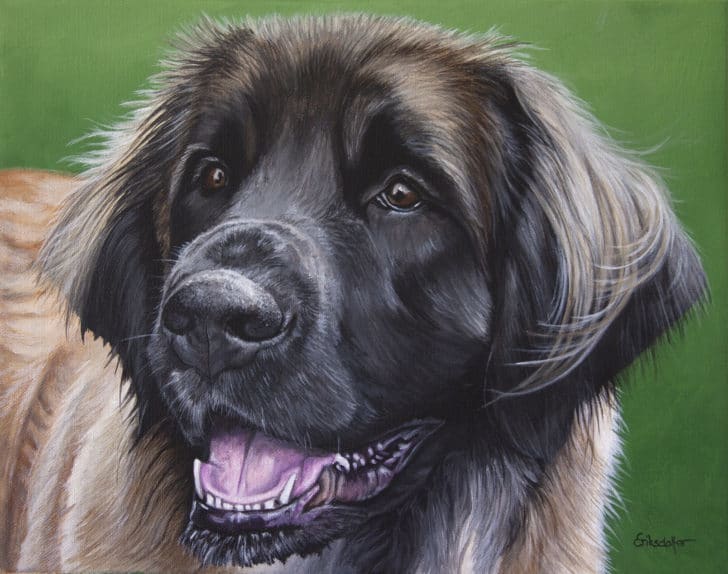 "It makes me smile and happy, rather than sad which happens when I look at photos. Erica's heart comes through in her work and I feel it every time I look at Elsa."
M.S. of Maryland
Repeat customer who commissioned portraits of her two dogs
Repeat customer
"This portrait means more to me than words can say. Thank you so much for capturing his essence and his joyful way in this painting."
D.B. of Virginia
Surprised her husband with a portrait on his birthday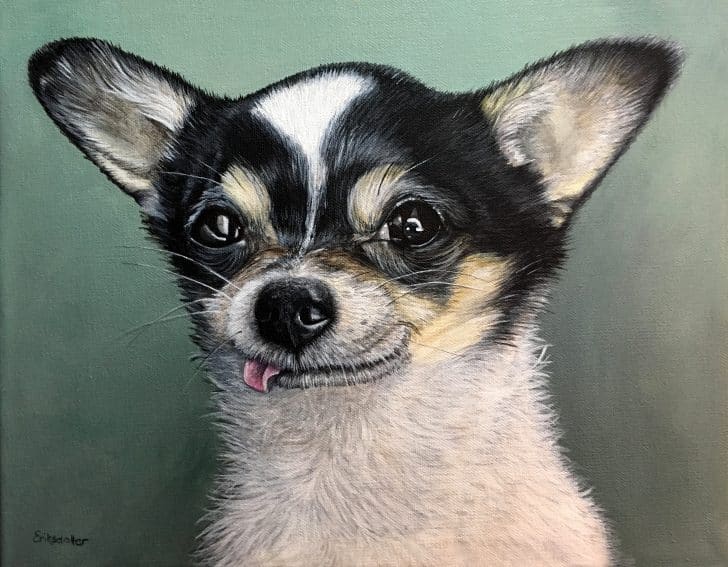 "Oh my gosh, I can't quit looking at it. It's so beautiful. There's so much meaning behind this portrait. Thank you for sharing your incredible talent with the world!"
M.T. of Virginia
Gave "Billy's Portrait" to his mom as a surprise birthday present

I share photos, videos and even paint live throughout via instagram to bring you closer to the creative process as your pet comes to life. I share close ups of the brushstrokes, 'before and after' photos of sessions and fun real-life glimpses into the studio. Each pet has its own hashtag and instagram stories are saved. Some love to follow along, share the links with friends or after they give the painting as a gift, and others print them out as a bonus keepsake.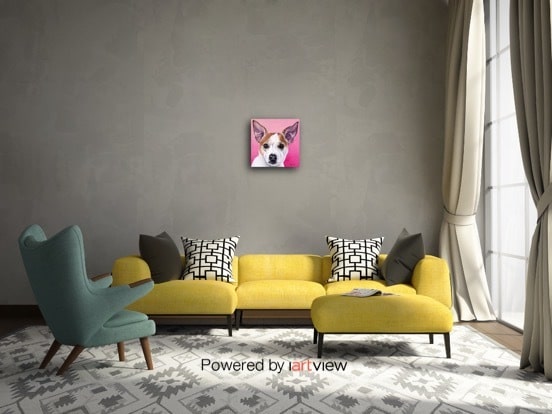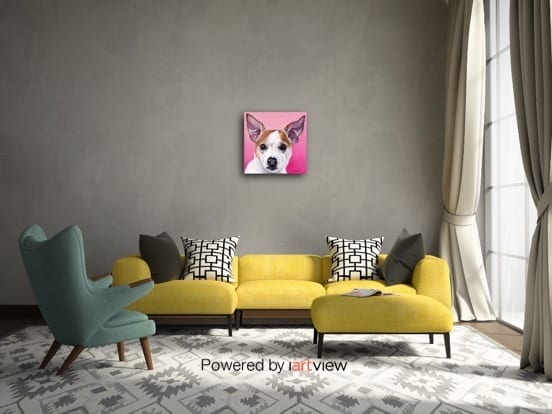 The loss of a pet is no different from a human loss for many, and that grief can be nearly unbearable. Chris, one of Erica's many customers, knows the emotions of losing ones pet all too well. He rescued his beloved dog, Canela, off of the streets of Mexico. When she passed away, he wanted to pay tribute to the companion he had shared so many happy years with.
"You've captured the face that I know and love. I love the painting. It's part of the shrine and I look at it all the time."
– C.B. of Maryland
Grief counselors say Erica's pet memorials provide "something akin to therapy."
"It sounds to me like what she's doing is an effective way of helping people mourn. She's giving them a safe space to be able to talk about their animal, and by talking about it, that's a way of mourning, which leads to a place of healing."
– Antonietta Corvasce, a D.C.-based pyschotherapist who specializes in grief and loss counseling.  (Washington Post's feature about Erica's life and art)
Grief counselor Chris Hawks believes what Eriksdotter does is a sort of therapy that helps owners deal with loss. "They want some way to memorialize the animal, and the essence of guiding people through pet loss is to enable them to remember the good things and not be upset by the absence." (Voice of America's segment on how Erica's art helps pet owners grieve)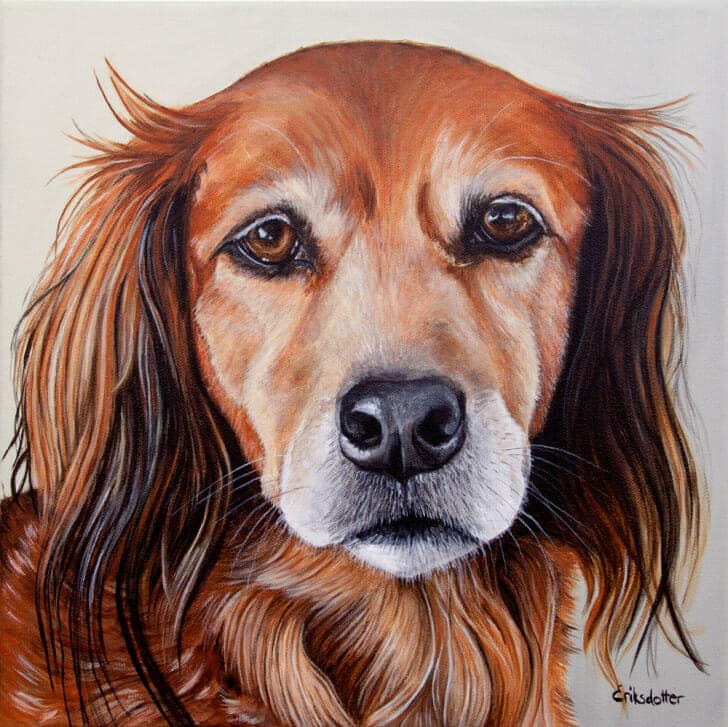 Erica Eriksdotter fell hard for painting at an early age and sold her first painting as a 10 year old in Sweden where she was born and raised. It was a watercolor piece of a simple landscape with a red balloon floating in the air.
She's a third-generation fine arts painter and continued to paint throughout her teens, finishing watercolor pieces while on the phone with her girlfriends or while traveling in Europe. To her, painting was an essential way of being.
After years of working with watercolors she applied the technique to acrylics – diluting every brushstroke with water for thin, thin layers, and she had found her style, and a new home outside of Washington D.C. at the age of 20.
She works the same way as the old masters, one brushstroke at a time, without any shortcuts. With their detailed and realistic look, pet portraits take 40-80 hours over a stretch of a few weeks but each finished painting is a culmination of Erica's 30 years of dedication in the studio and the blend of her two cultures. She brings all this to every brushstroke. More, she brings her whole heart.
She lives in Reston, Virginia, outside of Washington, D.C. with her college sweetheart (another creative), their three year old son, Mason, baby daughter, Elise, and their two cats, Rasmus and Lola, who often joins her in the studio.
"Thank you Erica for everything. Your extraordinary talent and your extraordinary heart. It's been so amazing working with you and we look forward to commissioning our 4th painting with you."
"You somehow are able to convey the 'soul' of the animal. Amazing. Simply amazing. You have a gift."
"Erica does great work – she really captures the dogs' expressions. And we like her personally. She's great."
"Erica is such a unique artist whose warmth and care goes in every individual project."
"You're first-class all the way!"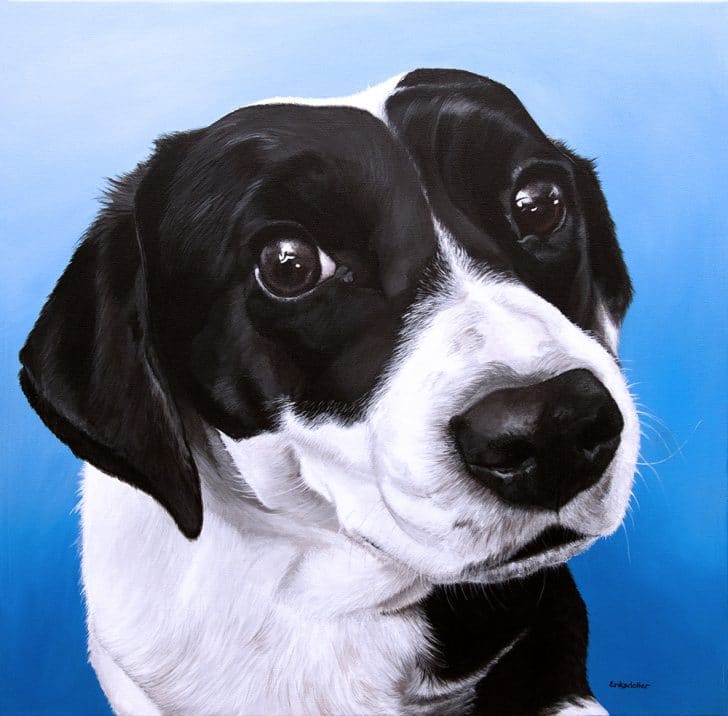 R.M. of Virginia
Repeat customer who gave a portrait of their dog for her husband's birthday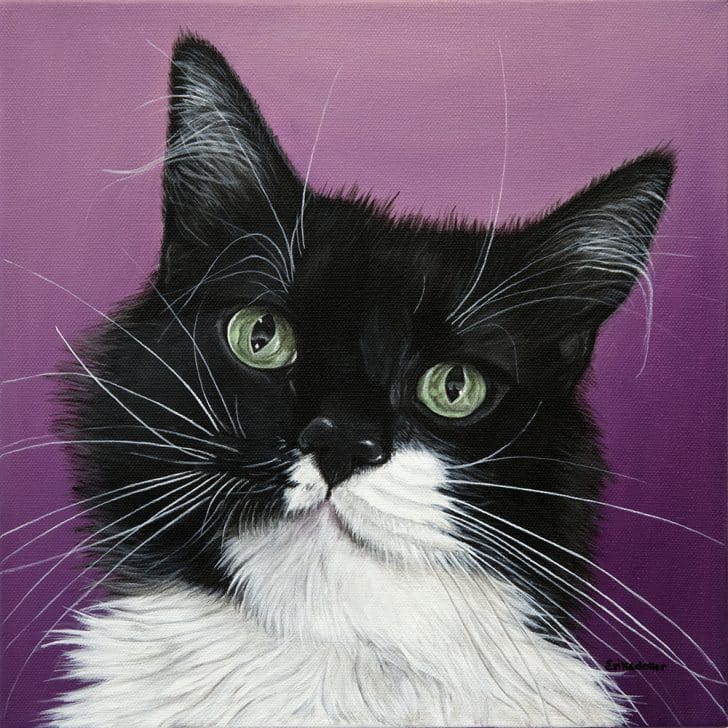 "She loved it! It looks pretty realistic. Thank you, and I loved following along the process."
G.M. of California
Gave a portrait of his girlfriend's cat to her as a moving-in-present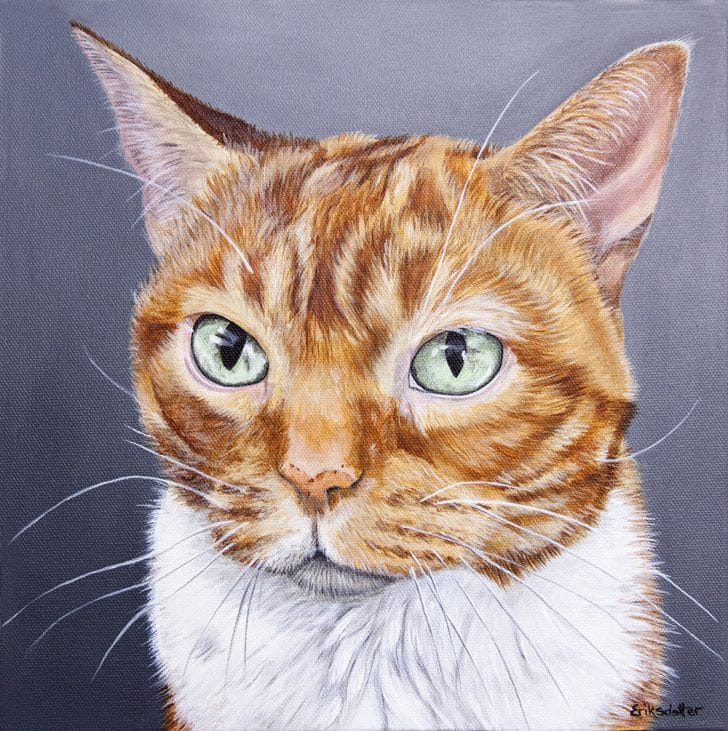 "My husband absolutely loves the paintings! They look exactly like our cats. We're beyond excited and thankful for your incredible work!"
E.H. of Virginia
Surprised her husband with portraits of their two cats for Christmas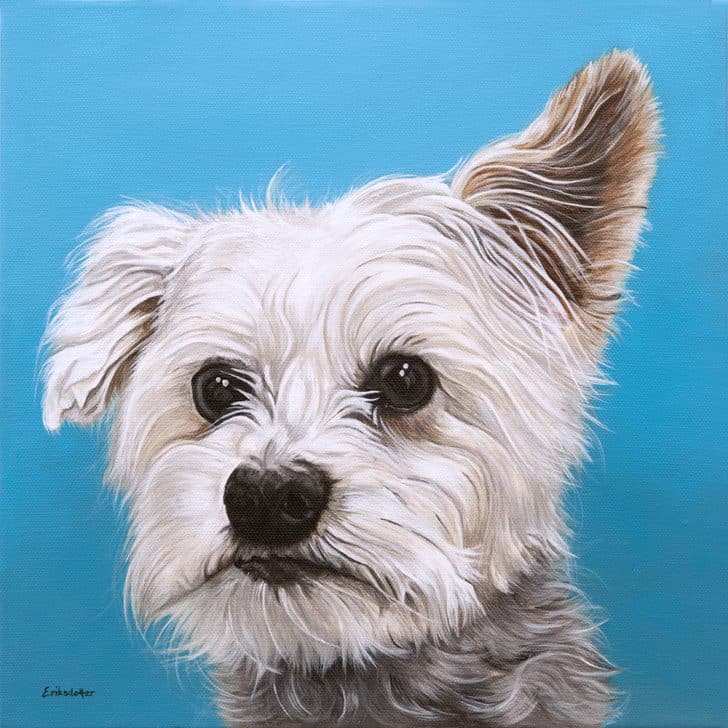 "My husband loved it, and the boys were thrilled. It captured her :)"
S.H. of Pennsylvania
Repeat customer who, together with her boys, surprised her husband for Father's Day