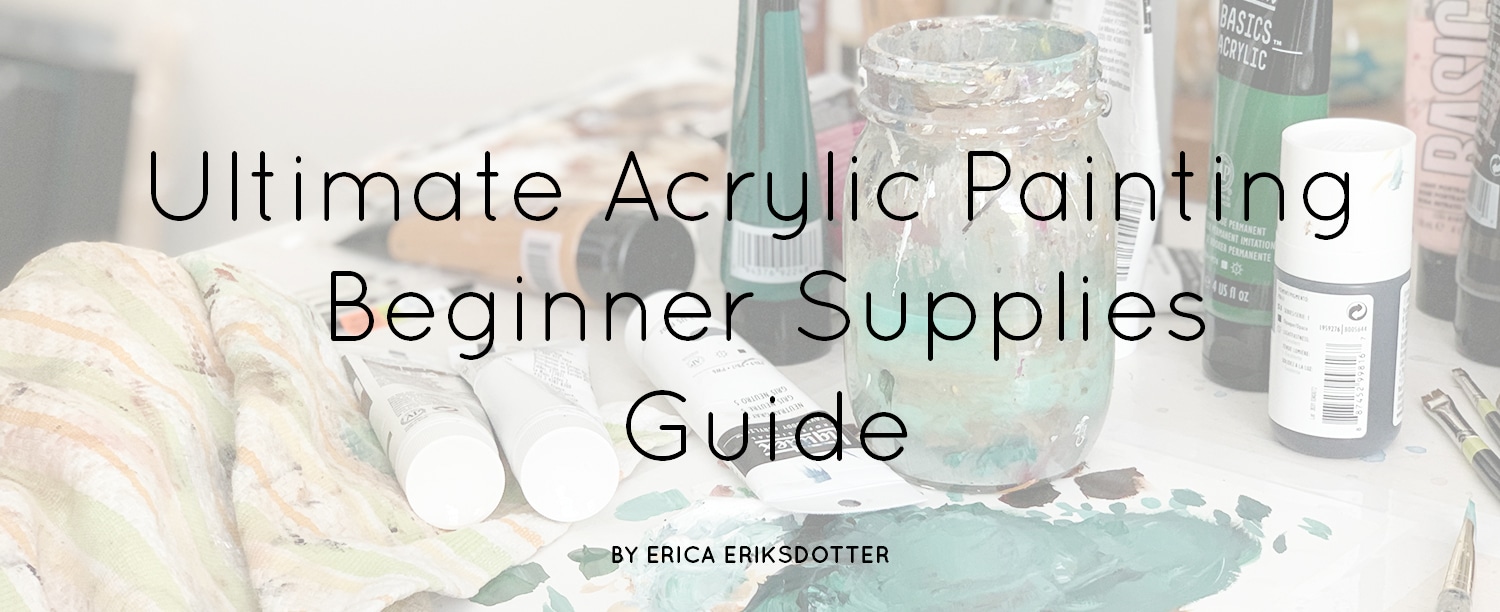 Have you dreamed of painting acrylic to sell or for your own joy but not sure where to start? Is the thought of browsing thousands and thousands of art supplies overwhelming you into indecision?
Maybe you've got unfinished painting ideas ready to be birthed or just a deep desire to create something.
When I started to paint as a child, we had one art store in my small town in Sweden but I always felt too intimidated to ask the men working there.
Like most beginners, I felt silly not knowing where to start or what brushes or paints to use.
There was no internet or YouTube, I vividly remember feeling a bit lost and not knowing where to begin in a sea of art supplies. What did I do? I traced my fingers over the brushes in the store, curiously looked at the sponges and bought masking tape not knowing how or why I spent my birthday money on it.
Some of these are affiliated links. When you use the links to purchase your supplies I may get a small commission.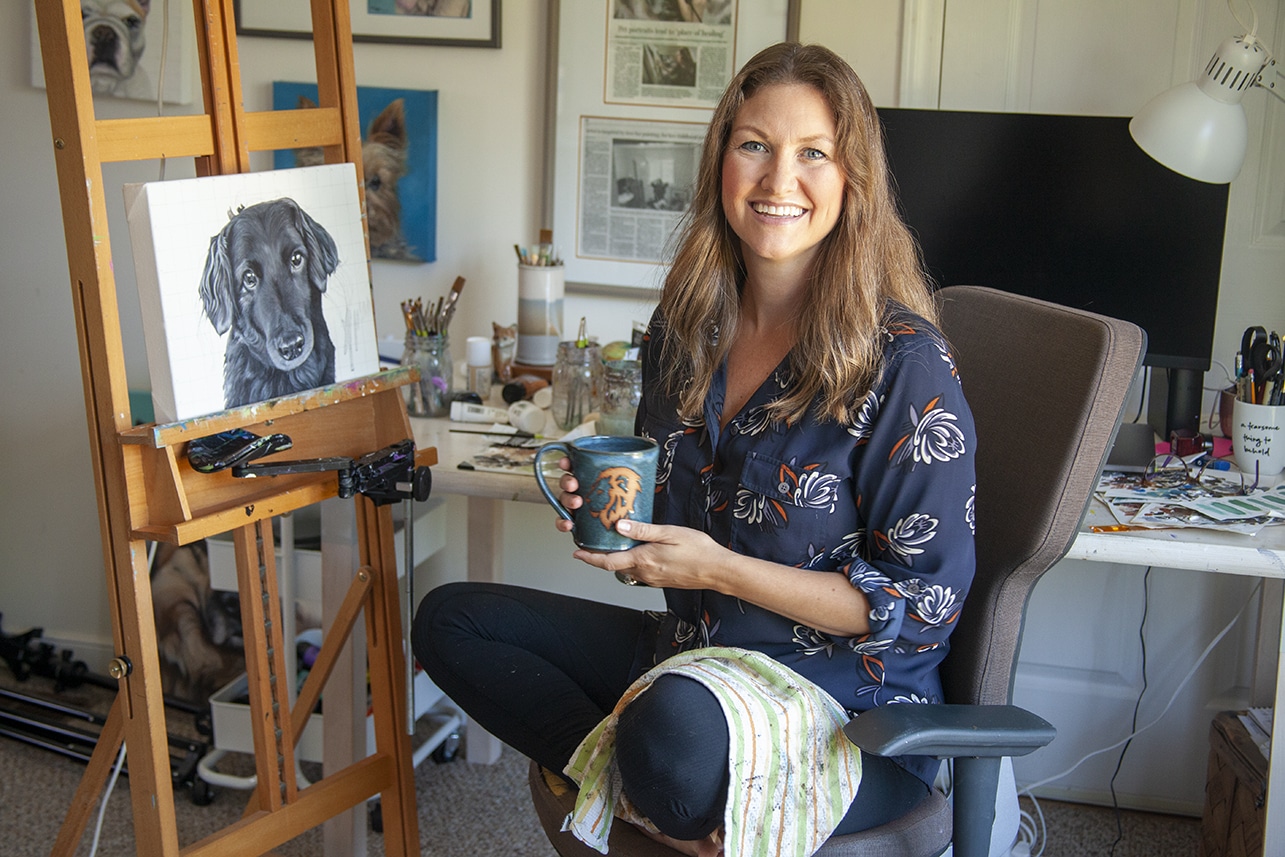 More than three decades later…My name is Erica Eriksdotter and I specialize in painting custom pet portraits grief counselors say lead to a 'place of healing'. I'm a third generation painter and my art has been featured in global media. I'm living a painter's dream with a long waitlist for my paintings and now share everything I've learned since starting to paint at age 7 with my art students through courses and resources.
I often hear "What acrylic painting supplies do I need to start with?"
No matter if you've never painted before, or whether you dream of building your own successful art career or just paint for fun. You don't need a lot to start.
Here's what you do need in your list of beginner acrylic supplies:
Good quality art supplies (i.e. paint, brushes, canvas and a palette), and
A workstation that supports you and your craft (i.e. towel, brush cleaner, varnish, and tools for hanging).
Once you have good art supplies it'll make painting more enjoyable and increase your chances of following through on your brilliant painting ideas and expanding into a wholehearted artist. It'll also support your longevity as a painter and make your art last generation because you're using quality materials even in the beginning.
I've got you covered with the materials you should start with as a beginner. I have a long list of favorites that I use as a professional and here are the acrylic painting supplies for beginners and painters on a budget.
(If you don't have an idea to paint or want to learn how to paint a pet portrait you'll be proud to share, I can help! Learn more about my courses and resources.)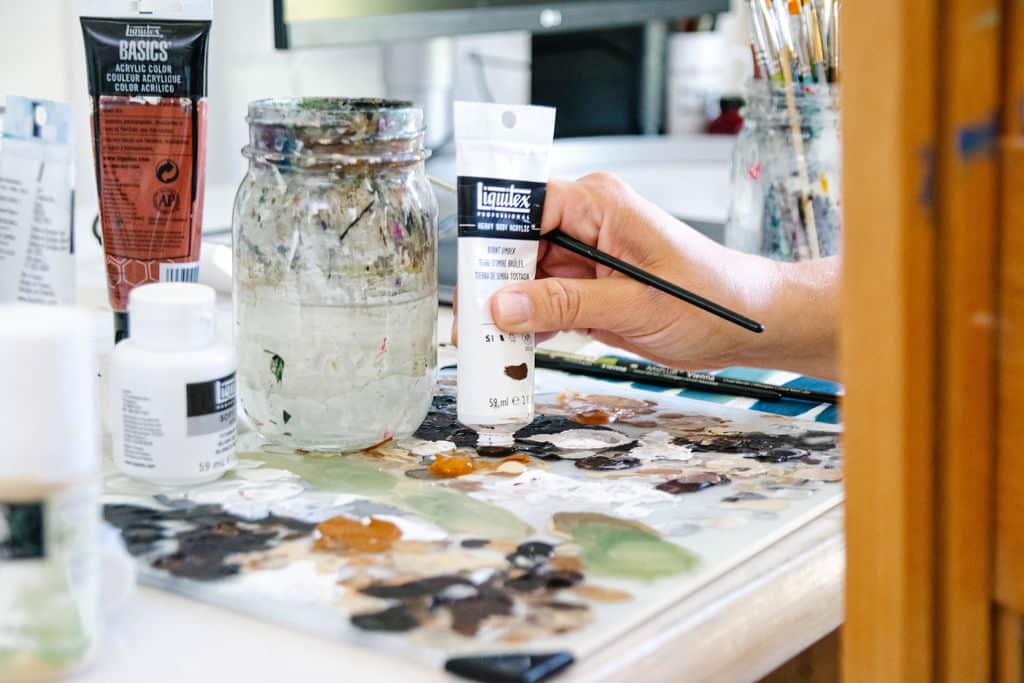 Acrylic Painting Supplies for Beginner
Here's your quick supplies overview:
Let's start with the basics: paint, brushes, canvas and the palette.
Best acrylic paints for beginners (or anyone really)

Let's start with my love of Liquitex. There are many brands of acrylic paints available and most offer two different qualities: a student grade and a professional grade. I prefer the Liquitex brand over other brands such as Golden and Winsor-Newton (my go-to for watercolors) simply because I like the performance, consistency and how easily I can open and close the paint tubes (this becomes surprisingly important when you paint all day).
I exclusively used Liquitex's student grade colors, called 'Basics,' for many years because the quality was great and I often got them on sale. The student grade usually has a single pricing structure to make the buying process easier, while the professional grade has several different series depending on how expensive the pigment is to make. Rest assured, the pigment is still good in the student grade.
I still use the Basics today and I blend them freely with my professional grade colors and the various body consistencies.
The Basics has a buttery consistency versus the heavy cream feel of soft body paints or the thicker texture of a heavy body color. It's easy to blend on the palette, and it goes on nicely as a first layer on a rough canvas and works perfectly when applying thin layers like I do.
It's important that the acrylic paint I use is of high quality since I paint portraits in memory of beloved family members – paintings that will pass down generations and become family heirlooms. While acrylic paint is a fairly new invention (first half of 1900s), all Liquitex paints are made with lightfast fine art pigments, meaning they'll resist fading for 50-100+ years in gallery conditions. Using a varnish will extend that life of your painting too.
While the Basics come in a variety of tubes, squeeze bottles and jars, I find that the 4oz tube lasts me a long time for portrait work. Paints come in different acrylic paint sets which is a great way to grab a lot of colors at the same time. Still, if you're on a budget I recommend purchasing only the colors you need for the particular art project you have in mind. Eventually you'll end up with a storage cart full of paint tubes like me.
Pet's come in a variety of colors but here are my most commonly used colors for my custom pet paintings:
Sometimes it's good to have a little thicker consistency for more coverage and since we often blend with white, I also recommend investing in Titanium White in a heavy body if the budget allows.

Best acrylic brushes for beginners

It's important to enjoy the brushes we use. Even with my favorite brushes I can tell right away when they stop performing at their best and I grab for a new one. The handle needs to feel good in our hands, the brush shape and fibers need to be enjoyable to use when we blend and apply the paint on the canvas. They also need to hold color… just to name a few.
Let's start with brush shapes. Brushes are offered in different shapes, like round, pointed round, detailed round, chisel blender (or bright), flat, angular flat and fan. You want to select a brush shape that works with style and scale so you can use the brush to your advantage. You can read more about the differences between the shapes here.
Paint brushes are made from different brush fibers. A long time ago all brushes were all made with natural (animal) hair but today synthetic alternatives are as good (or better!) and often more budget friendly.
I exclusively use synthetic brushes to support ethically made and cruelty-free products. Acrylic paint brushes also come in soft, medium and firm brushes. I enjoy a soft brush that has some resistance when applied against the canvas. This gives some stability to the brushstroke. The firm brushes are particularly great with heavy body paints while softer brushes will hold the paint longer when used with fluid paints.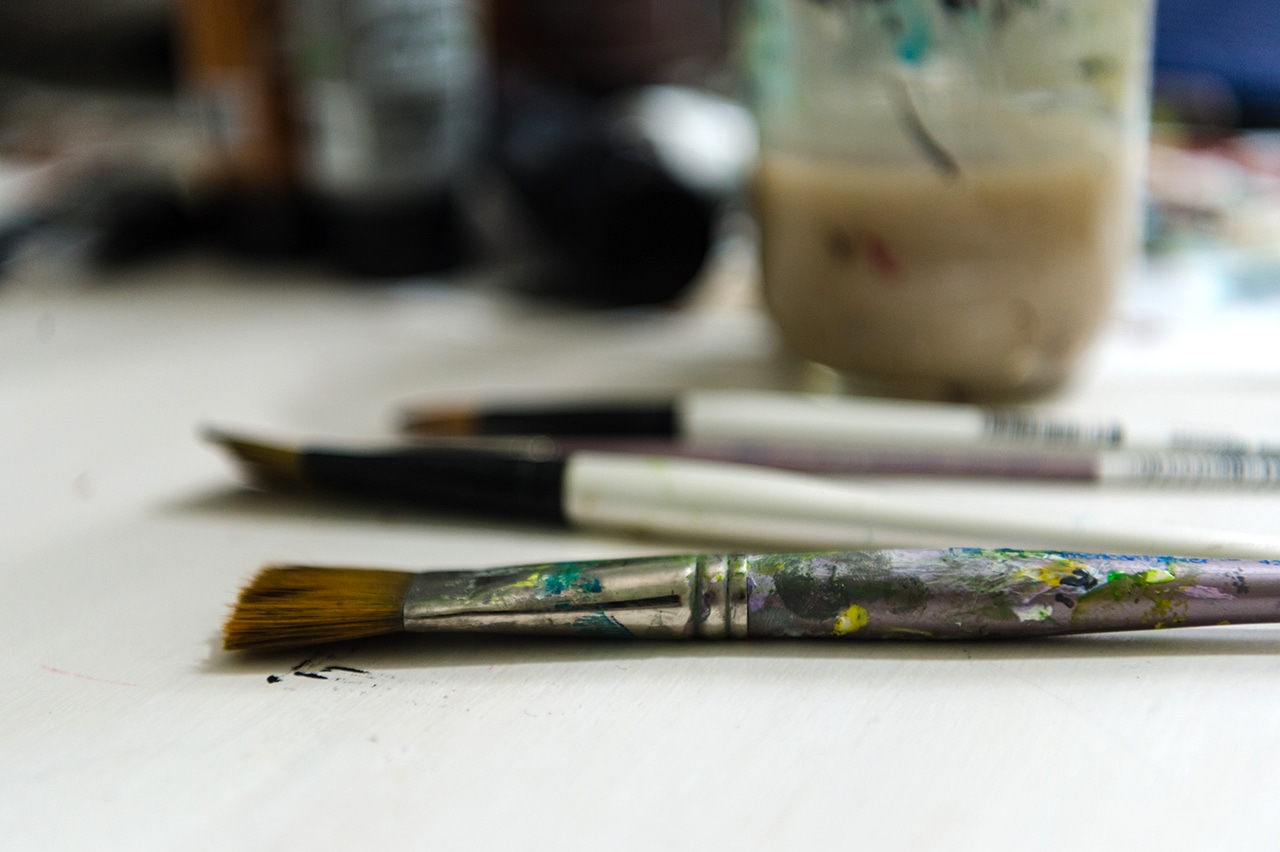 On to brush handles. Traditionally, painters used long-handled paint brushes for easel painting while short-handled brushes were for table work. I exclusively use short-handled brushes because they give me more stability and accuracy. I sit close to my easel when I paint and I work in several thin, detailed layers.
Before you shop new brushes, you want to make sure you invest in brushes meant for acrylic paints.
If you're starting from scratch, I recommend getting a couple of sets combining different shapes and handles. Play around and see what works and feels best. Then invest in more of that. Maybe try another brand as well. Be curious with your exploration.
My favorite type of brush is a professional grade chisel blender. It's flat, square-ended, with medium fibers. It holds my paint and it's easy to maneuver. I love the control and greater precision it offers for my deliberate brushstrokes, blending and adding details – think a portrait full of thin lines for fur!
You're going to need a wider brush (flat or wash) to cover larger areas of the canvas, as well as a long thin brush (often called script liner) to sign with.

Best acrylic paint canvas for beginners

There are different styles of canvases to suit different mediums (acrylic, watercolors etc.): stretched canvas, canvas panels, canvas paper and canvas rolls. Let's walk through them together.
One of the first paintings I did using an easel was on an acrylic on a canvas panel. I was ten and wasn't sure what 'feeling' I was looking for to enjoy the process. It's more stable than a stretched canvas and a good option when painting outdoors or using a box easel.
Then I moved on to canvas paper which is a wonderful material for planning out a painting, practicing techniques and for playing. I used it for many years and sold several paintings using this style. It's a must-have for beginners, and I recommend getting a canvas paper that replicates the surface of a canvas.
Canvas rolls are great for advanced painters who want to cut their own custom size, or paint a larger size of art. This is the way to go if you plan on shipping a large painting across the world as you just roll it up when you're finished and ship it in a tube.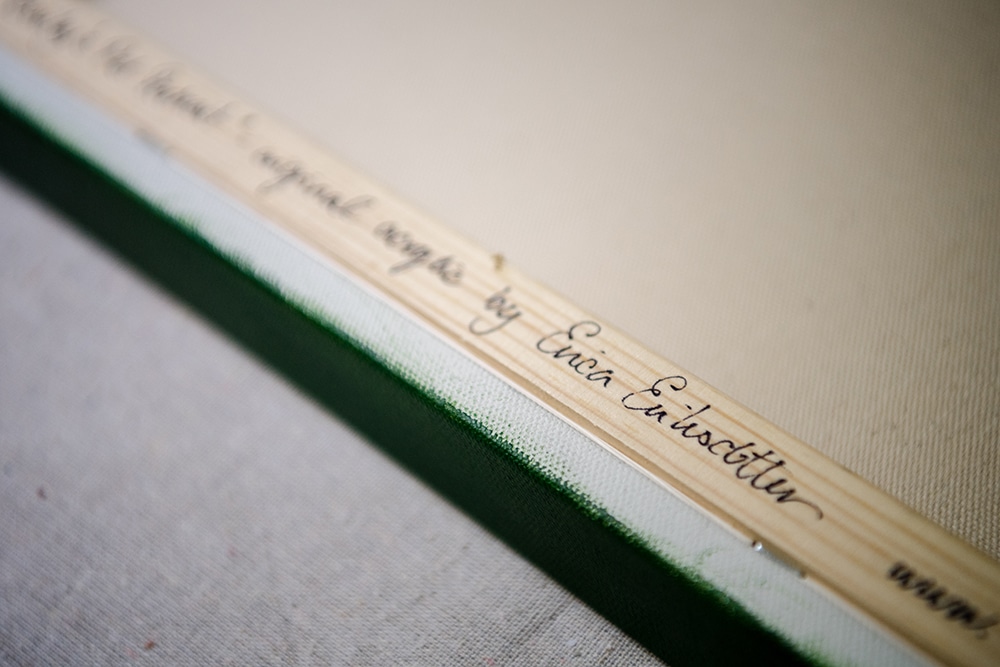 My personal favorite is a stretched canvas. While not as budget friendly as canvas paper pad, these are ready to hang and will create an instant impression for the viewer. You can buy them in bulk at discount for studies and experiments or practice on canvas paper and then switch to a stretched canvas when you're ready.
Stretched canvases come in different profiles (depth of the canvas) from under an inch to over two inches deep. The traditional profile (the 3/4" deep canvas) is a perfect first stretched canvas to use as a beginner, and the 1.5 inch deep canvas, which is my favorite profile, makes an instant professional impression and looks great when displayed unframed.
Then you have the different fabric canvases are made up of: cotton and linen, with cotton being a great affordable and durable option for beginners and the most popular surface for acrylic painting.
When it comes to the size of the canvas, it's up to you and the painting you're planning. Start with 8" x 10" or 12" x 12" and focus on following through with the painting.
Here are my favorite budget friendly, pre-primed cotton and acid-free canvases for beginners I recommend having on hand:

Best acrylic painting tools + accessories for beginners

Palette: You'll need a palette where you can mix and blend your paint colors on. Over the decades I've used a variety of tools, and it's important to choose a palette that works for you.
When you're picking a palette, ask yourself if you want it rested on a worktable next to you, or do you want to hold it in your hand while you paint? What about attaching it to the easel, or keeping it in your lap? If you use specific blends or sit in shorter sessions, you may want to consider a palette that makes the paint stay wet for longer. How about a peel-off palette for easy cleaning or a glass table top?
There are different shapes to consider too. Do you like rectangular ones or an oval shape with an easy-grip thumb hole? Do you prefer a flat service or a palette tray designated with small wells (or cups) for holding paints and mixing colors.
Here are my favorite palettes I've used during various times over the last three decades and recommend to my students:
Palette Knife: A tool that can be used as a replacement for a brush for added texture is a palette knife. It's also used for blending colors together. I had no idea what it was used for when it came in a beginner acrylic set many years ago. The flexible blade on a long, balanced wooden handle can create patches, lines, edges and texture for an interesting look on a canvas. They come in different shapes and I recommend the more common tapered knife to start.
Jar for holding water: When you're painting with acrylic paints you want to clean your brush regularly and especially when switching between colors, in water. I have several Mason jars on hand in the studio for my water and to store my brushes in.
I like glass because I can quickly see when the water gets dirty and it's time to switch it out. Consider a jar that is stable and can handle swooshing your brush around in the jar without tipping over. Other than that, any jar will do as it adds to your enjoyment.
Cleaning supplies + aprons: Let's start with brush cleaners because it's important to keep our brushes clean and protected. I rinse my brushes frequently during my painting process, and clean them after each session and stand them upright in an empty Mason glass jar to dry.
I prefer to use non-toxic cleaners and I use my natural hand-soap for also cleaning my brushes and it works well to remove any leftover acrylic paint. For years I used Pink Soap to clean my acrylic and watercolor brushes and it works well. I still have it and use it when I need some extra help. It contains a conditional, is gentle on our environment.
Towel: You'll need a towel or rag when you paint. It's essential to wipe your brush off between paints and after cleaning your brush in the water.
You want a towel or rab that's absorbent and preferably 100% cotton that leaves no fuss on your brush. I've used the classic striped towels from William-Sonoma for over a decade. Use what you have on hand and ready to toss once you've gotten acrylic paint on it.
Apron: It's important to project our clothes when we paint as acrylic paint won't come off in the washer. I have several on hand but I'm so deliberate with my brushwork that I find that my towel is enough. Still, an apron is always a great idea and here's what I use with my students.
Artist Tape: In the beginning, I used tape on my canvas paper to create a clean 2 inch border for easy framing. You can also use it to protect certain parts of a painting or if you want to create clean lines.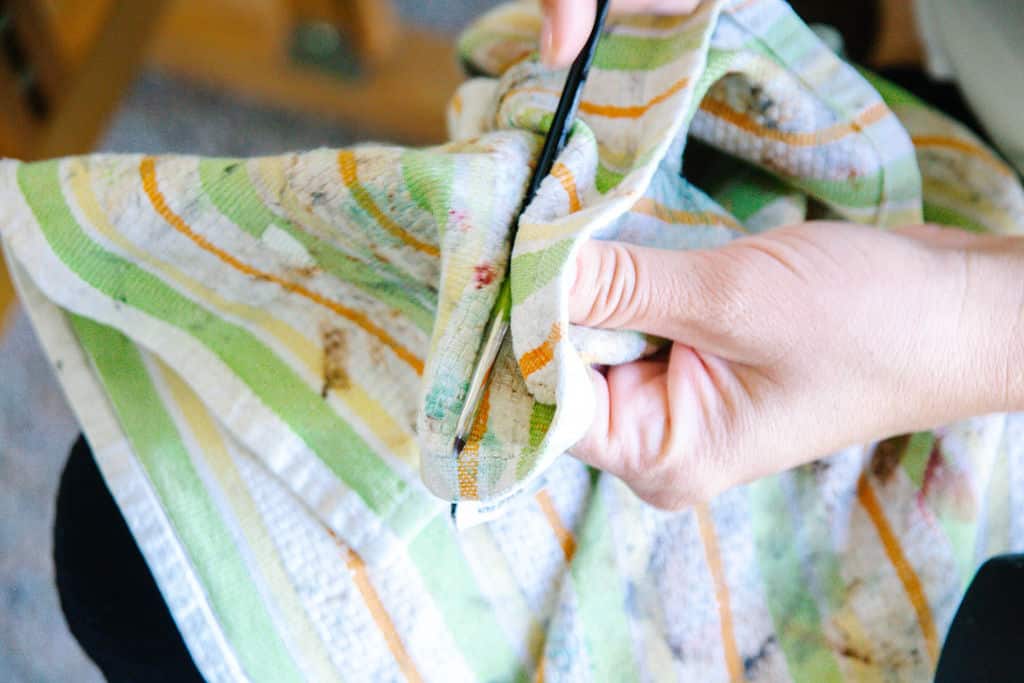 Best sketching tools for beginners

Every pet portrait starts with a sketch directly on the canvas for me.
First I use a ruler and a pencil to create a grid, and then I sketch the portrait which creates the foundation of the painting. I use a pencil sharpener throughout to make sure the lines are always neat.
Ruler: While I use two different ruler sizes today when I paint, a larger ruler will draw a straight line across the more common canvas sizes for grids.
Pencils: How the pencil feels against the pre-primed canvas is important to me – it needs to glide smoothly and have a harder degree of sharpness to create crisp and lighter gray lines to avoid smudging once I apply the paint. I use pencils made specifically for drawing and sketching and mostly use HB or 2H.
Pencil Sharpener: Any good pencil sharpener will be OK but it is helpful to have a high-quality sharpener that will last you a while. I love my little red glass one.
Eraser: If you sketch on canvas you're going to need a good eraser that doesn't smudge the graphite or leaves a trail of dust that you can't get rid of.
Best supplies for your Painting Workspace

Easel: You want to create an enjoyable environment when you paint and only you will know what that is. For me, it's surrounding myself with items that mean something to me, like a painting by my grandfather (I'm the 3rd generation painter), a special quote that gives me the extra kick-in the butt when I need it, and my first watercolor painting set I bought in Sweden.
You also want to create a workspace that supports you, yes, even as a beginner. An easel is a great way to keep your canvas sturdy and your physical body supported during long hours.
There are all kinds of easels and here's what I recommend starting out with:
Daylight lamp: If you find yourself painting in the evenings after work, consider investing in a daylight lamp which mimics natural light. I have mine on everytime I paint because the bright, clear light helps me see contrast and colors better yet sheds low heat so stay comfortable.
If color matching is important to you, like it is for me when painting custom pet portraits (even a tiny bit off in the hue and a commission can be ruined!) a color calibrated LED light (or even just the bulb) will assist you.
It's challenging to go budget-friendly when buying a daylight artist lamp, it's an investment for use but well worth it! Start with an adjustable lamp that you have already and simply replace the bulb.
Arm Support: Many painters use a mahl stick as a welcomed armrest. It's a simple wooden stick that you lay across your table or easel at an angle, or rest it on a dry spot on the canvas to support your arm in general or when painting details. If you plan on sitting or standing a lot when you paint, this will avoid shoulder and arm pain.
Caring for your painting

I know I'm sharing acrylic painting supplies for beginners, but what happens after you've finished? How do you prepare it for hanging and preserve it for generations to come?
Varnish: It can be a little scary to varnish a painting for the first time, particularly one that you're proud of or your first commission. But it's important. Varnishing will protect your painting from chemicals, water, abrasion and UV light and it can be used to provide lasting protection for your artwork.
There are a variety of finishes, including gloss, matte, high gloss and satin. I went glossy in the beginning but prefer the non-glare look to fully appreciate the details of the pet.
Varnish may be toxic or hazardous. Be sure to apply in a ventilated area and use plastic gloves.
If you're planning on varnishing your paintings with a brush, consider investing in a large gesso brush that holds a lot of varnish.
Getting it ready for the wall: Your painting is finished and varnished, now it's time to prepare it for hanging. You're going to need a wire, wire cutter, hangers for the back of the canvas to hold the wire, and nails for the wall.
Below are some handy hand tools to get the job done.

Find inspiration in the world around you

When we pour our hearts into our art, it's important to fill our cups from things that inspire, motivate, and yes, remind us to be lifelong learners.
For me, those things are anything gardening related, genealogy research, a beautifully made period piece drama or deep diving into books with uplifting and strong female friendships.
I also love serving others through teaching and giving back to the community. Studio Eriksdotter is a socially conscious company and I'm passionate and motivated about supporting women, children and animals in need.
There you have it.
My favorite starting kit if you're looking for acrylic painting supplies for beginners with lots of bonus supplies to support both you and your beautiful paintings.
Remember, simply start. See creativity as an action rather than wait for that 'creative feeling' to happen before picking up a paint brush.
Your art is needed my friend.
Xo,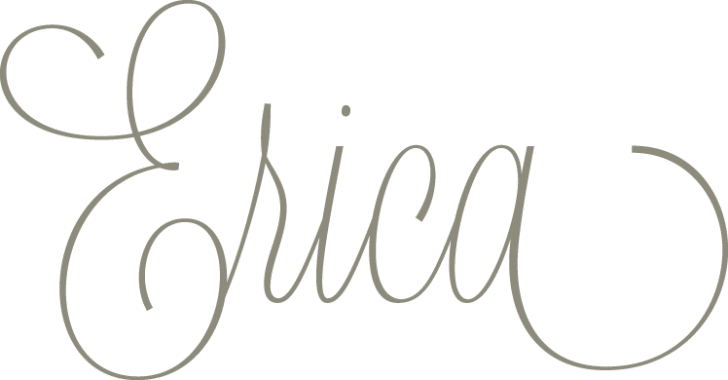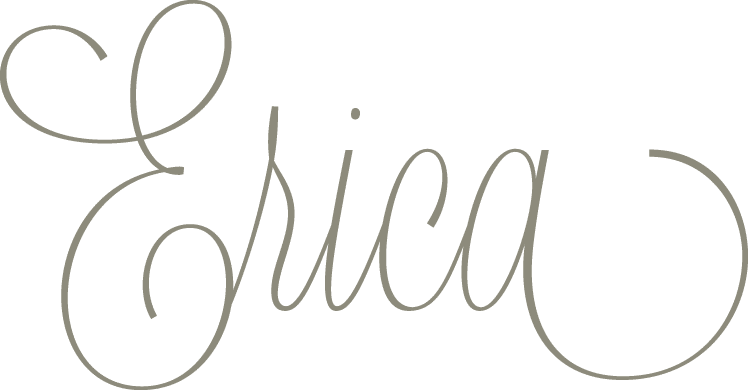 P.S. If you're ready to level up as a painter, click here to learn about my courses and resources.