When I started painting at age seven, I thought you had to be dead before you could be a successful painter. It was the mid-1980's and my only reference about art and a painter's life came from stories I heard about the old masters–and alas, they were all dead.
Everything I've picked up along the 35 years since dipping my brush at the dining table in Sweden, I taught myself, playing and with lots of trial and heartache.
Growing up, there were no professional art classes and the ones taught at school were mediocre, to say the least.
But I painted anyway. I learned by listening to the whispers of inspiration, never doodling but painting by referencing landscape photos in my mom's design magazines, or hitting pause on the VHS and the opening scenes of the 'Anne of Green Gables' remake from 1985.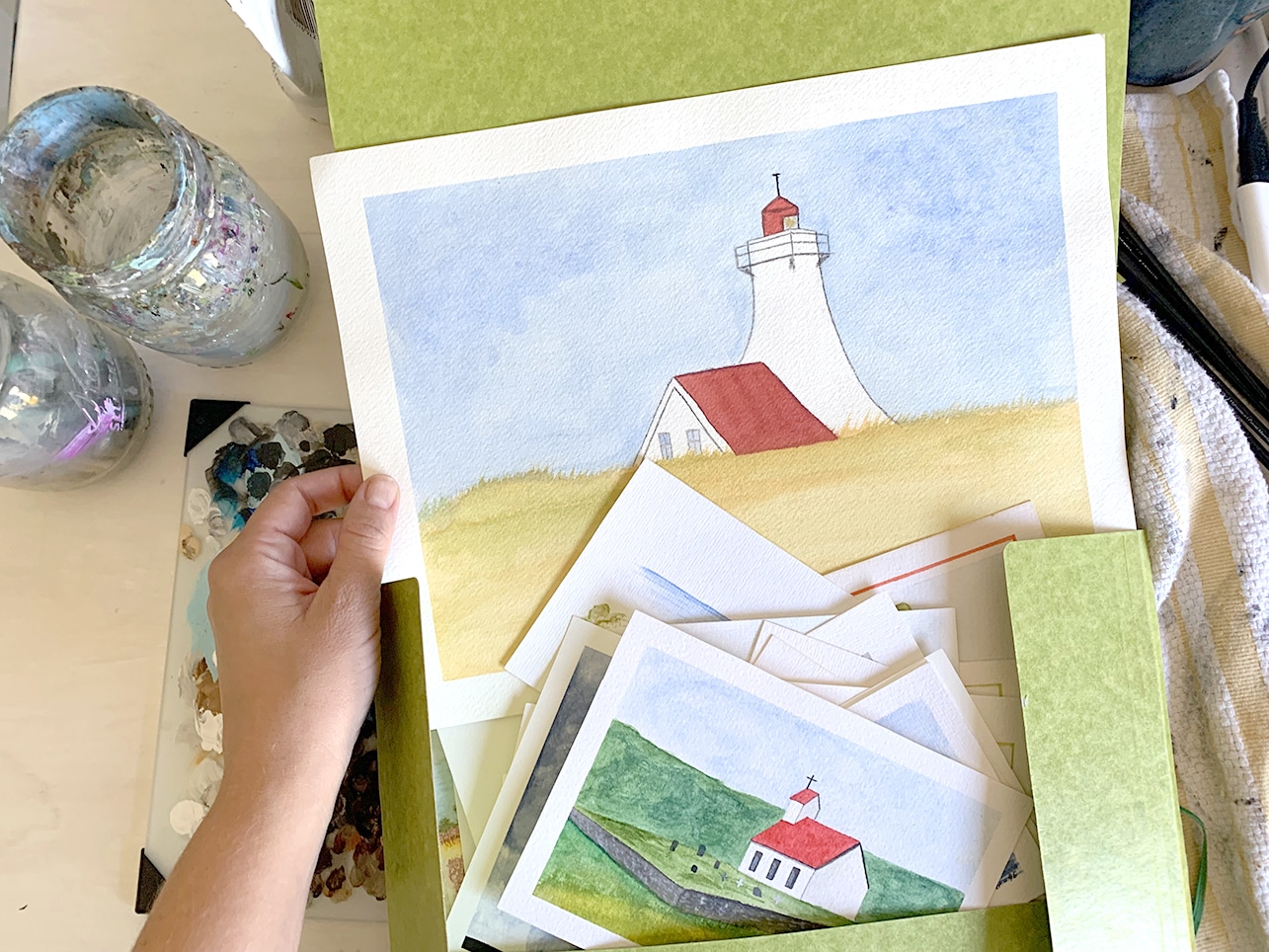 After attending George Mason University and getting my demanding entry-level jobs in Public Relations, I continued to paint because art is pumping through my veins and flows from my heart. It's the one thing I've returned to my whole life and practiced nearly daily.
I received my first commission at age 25 and then did my first exhibit at a year level with 'good enough'. This led to many more exhibits up and down the East Coast participating in National Juried Art Shows where I wanted to quit every.single.time. seeing everyone else's art.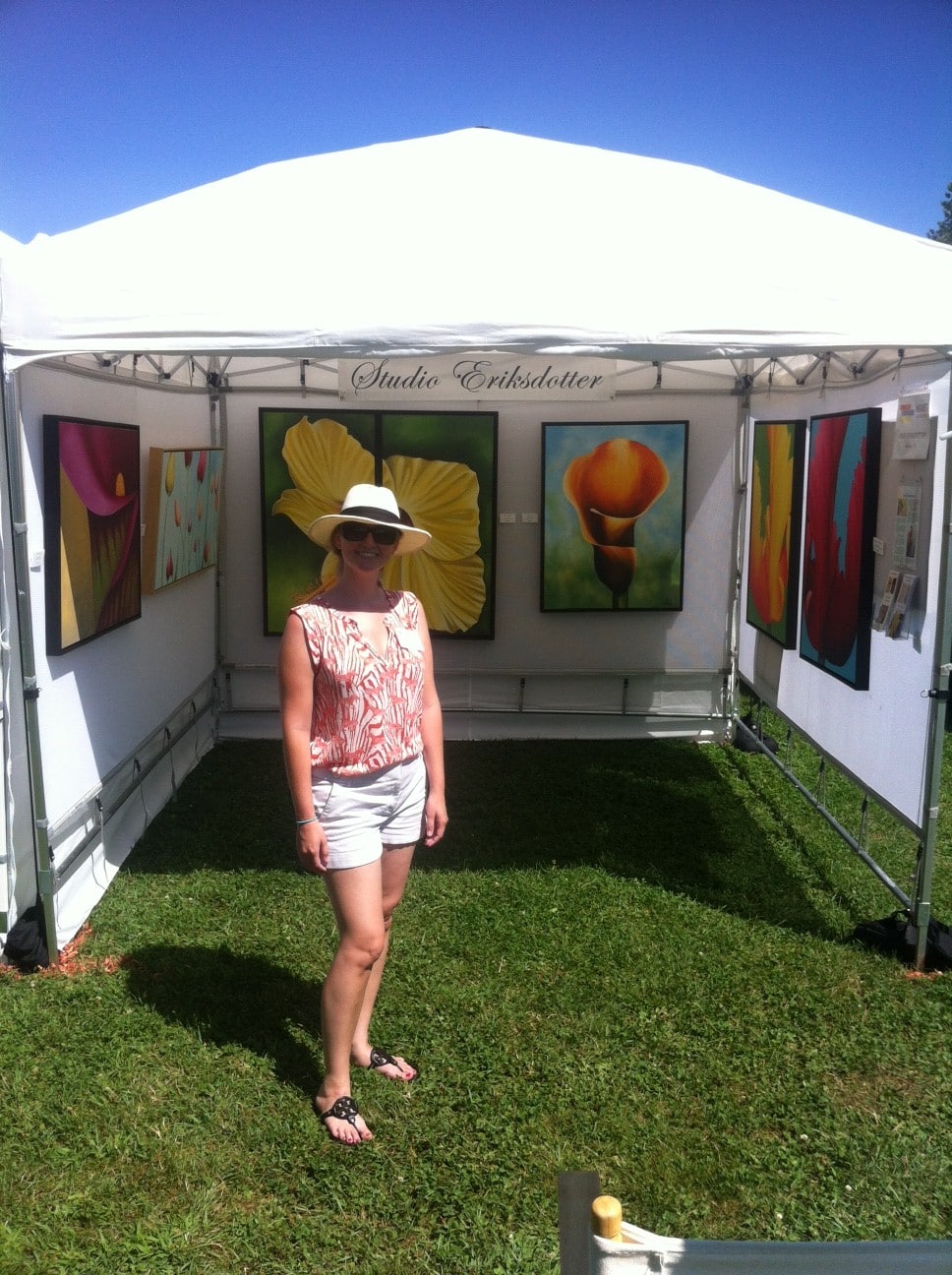 The Art of Teaching + Giving Back
Before I started offering painting classes, I–much like you–had a full-time job doing something else. There have been many times I was happy to have a steady paycheck because trying to "make it" felt too hard. But I missed the community and that's when I started offering painting classes in my own home in early 2013.
Each student of 'Cocktails & Canvases' would browse my thick bins of flower and bird prints for their potential subject to paint and then paint with me for 4 hours. I loved teaching those classes – we had so much fun!  Seeing how my tools and techniques opened their eyes to a whole new world, or how my words of encouragement would realign their focus and release the self-doubt that had crept in at the halfway point.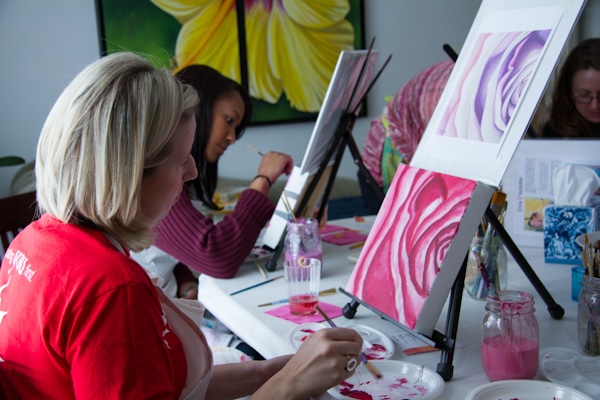 With a demanding job and a growing family, it was impossible to turn my dining room upside down for classes, and that's how the idea for virtual painting classes and 'Learn with Erica' was born. My pet portraits were already known for bringing healing to the clients and I felt maybe more people wanted to experience the painting process of this healing experience.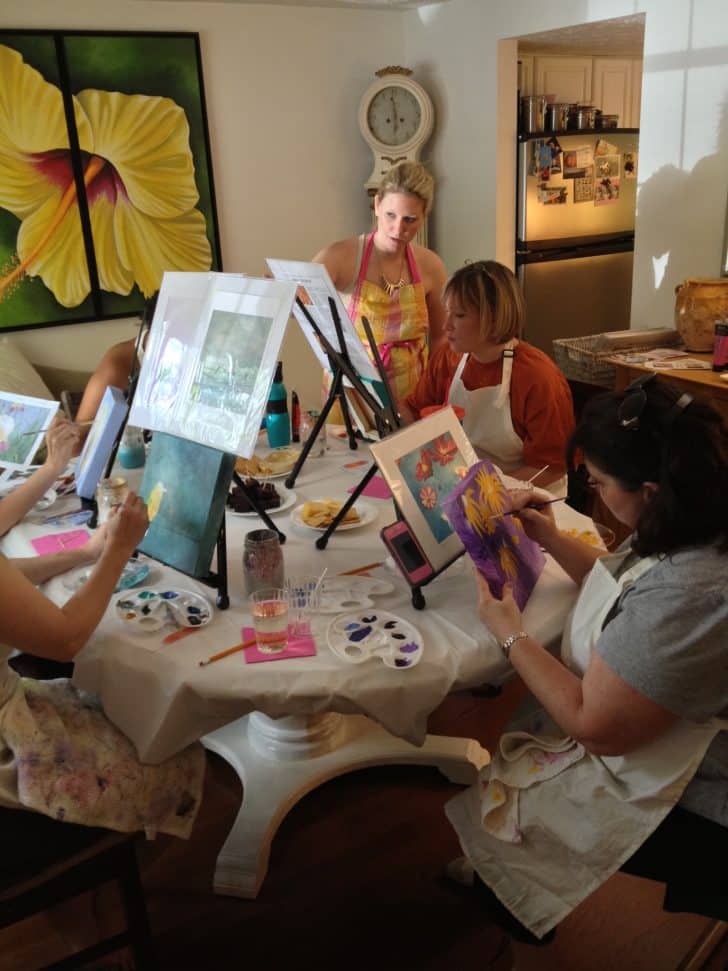 Before I could start offering classes online, national and global media heard about my healing pet portraits, and my inbox was flooded with commission requests. My dream came true. I was invited to speak in front of other professional artists about my pet portraits and my life as a painter. It solidified how much I loved sharing what I had learned. I saw heads nodding, wet eyes, and painters thanking me for my inspirational and encouraging story.
We picked up our little family of a toddler, newborn, and two cats and moved outside of Washington, DC to Richmond, Virginia to make room for even bigger dreams. And a bigger studio.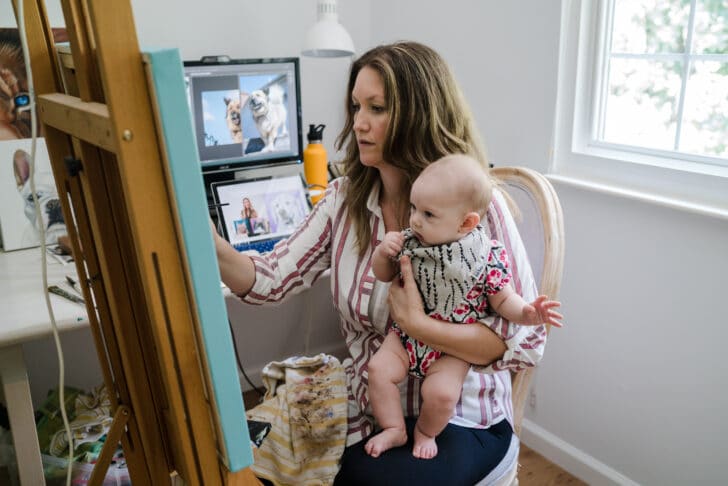 The birth of my online art classes + tools
2020 was filled with heartache around the world. With each day, it became more clear that we all needed joy and healing.
How do we find these little glimpses of joy and healing amid the chaos? For me, it was stepping into the studio after a long day with the children. I want that for more people.
To help share what I could I did a couple of things this year:
It's the part of the studio where I share more in-depth information on how to paint pet portraits and grow an art business while I continue to paint my pet portrait commissions and run my art business. I still do offer in-person teachings and am so proud of my Apprenticeship Program and my current student, Charity.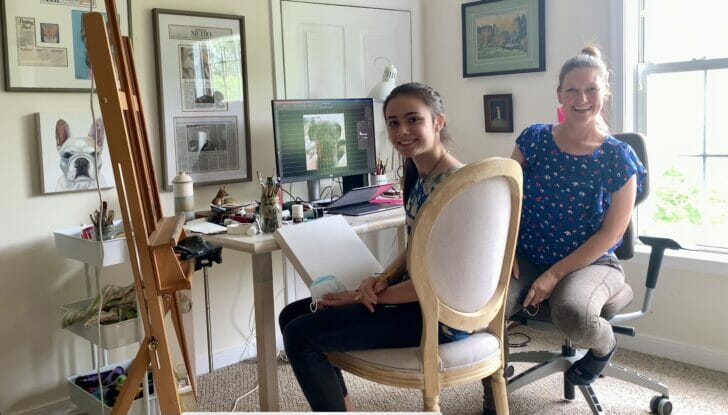 My first comprehensive and robust online course How to Paint a Dog Portrait has pushed me out of my comfort zone. I'm sharing my full proven process and have recorded every single step of the way. There was no hiding the ugly or choosing what photo to share on social media. Every brushstroke is recorded in real time as it happens. And to give the most support, each module opens with an honest, uplifting, and supportive conversation where we are in the process and how we support ourselves emotionally and mentally to be able to stay focused until the end for a finished portrait we're proud to share.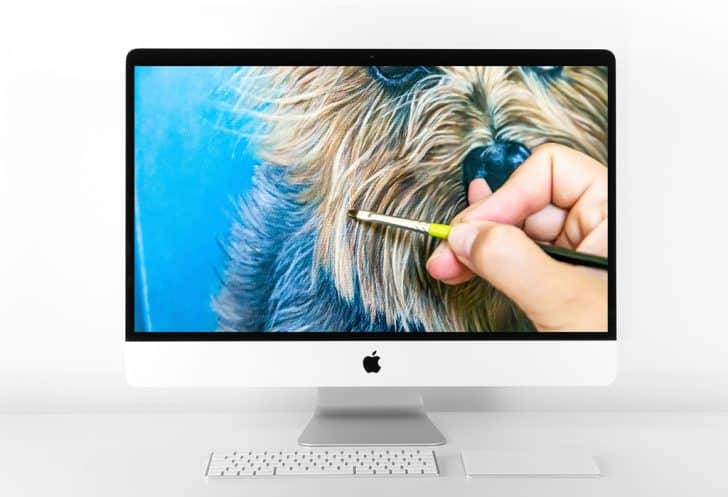 For years I've studied leaders in other industries and the insides of their successful courses to learn what I wanted to include in mine. This has been years in the making. I looked back and asked myself what I had needed as a beginner when my courage was shaky or I felt my dream was hopeless. I studied my own painting process to see what and when I needed the most support throughout the portrait.
Creating this course has been one of the hardest, most rewarding, and fun experiences of my life. This format has allowed me to take the student through the entire process, not just a brief glimpse of a longer process. To go in-depth into demonstrating techniques and giving students the ability to rewatch any of the videos they wanted whenever they needed a refresher. And I can expand and upgrade the material as I like based on the needs of the students at any time.
What I'm most proud of is that it's all designed to meet the student at their skill level whether a beginner or already a professional pet portrait painter. And I'm proud of the strong creative women who've shared honest conversations for bonus lessons to add even more dimension and supportive experience for the students.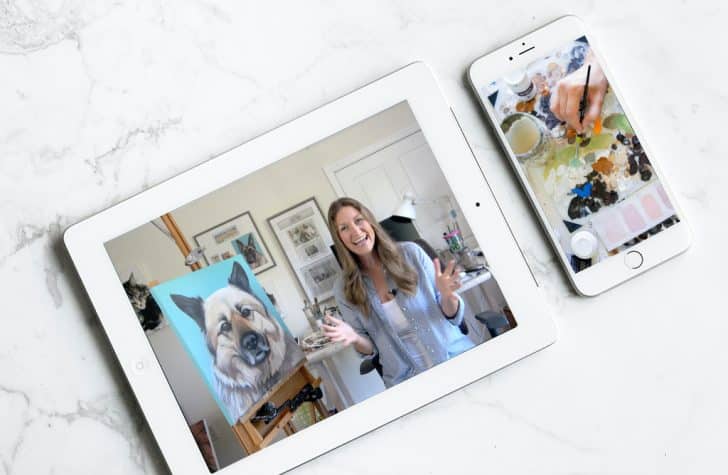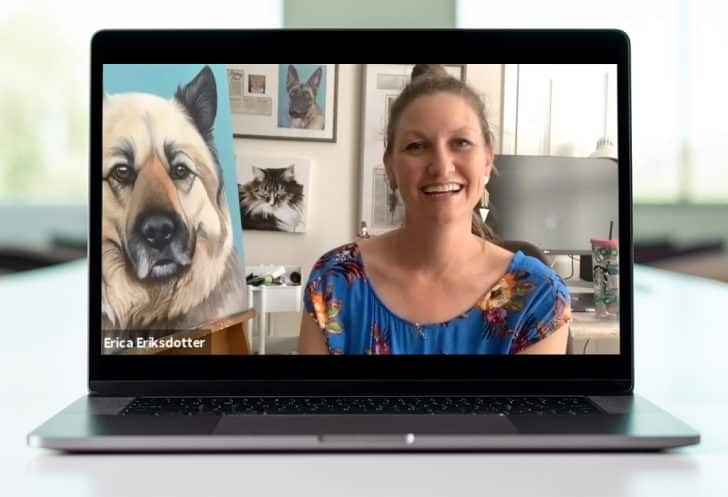 We're more than tools and techniques. We need inspiration, we need to see other people, just like us, and how and why they do what they do. And we need community. That's why it was important for me to build community within the course with Peer Love forums and our many Live group coaching sessions for a fully holistic and wholehearted experience.
I've poured so much of my heart and soul into this course and I can't wait to guide people around the world to a finished pet portrait and to level up as a wholehearted artist.
Focus on what you love doing and the joy you feel will grow.
Join the waitlist to learn when enrollment opens for How to Paint a Dog Portrait. Click here to learn more and join the waitlist.